If you own a betta fish, you must know how important it is to feed your betta fish the right food. Picking high-quality food for your betta is an overwhelming task, but we are here to narrow down your options. If you are looking for quality food for your betta fish, then the aqueon betta food is the way.
Before moving on, we must first understand what the betta actually needs. Betta food must be high in protein since betta fishes are born carnivores. The betta food must also contain the proper amount of nutrients to ensure your betta is healthy and safe. Aqueon betta pellets contain the right amount of nutrients and proteins needed by your betta fish.
Aqueon Betta Food – Product Details
Aqueon provides its betta food product in the form of betta pellets in a 0.95 ounces container. The Aqueon betta food is made up wholly of natural ingredients and is formulated so that it provides vitality and natural colors in the betta fish.
This food is designed especially for the betta fish. Therefore, all the betta fishes are naturally attracted to it. What makes it different from other betta foods in the market is that it does not cloud up your tank. The aqueon betta food was made to maximize nutrients consumption by the betta fish and minimize waste excreted by the betta fish.
Aqueon betta food was developed by Aqueon, a company based in the United States of America. Its consumption promotes the healthy working of the immune system and helps to bring out natural colors in the betta fish.
---
Aqueon Betta Food Color Enhancing & Ingredients
Aqueon assures its customers that its betta food is made of all-natural ingredients without any artificially added colors. It is the natural ingredients of the aqueon betta pellets which give the betta fishes their new colors.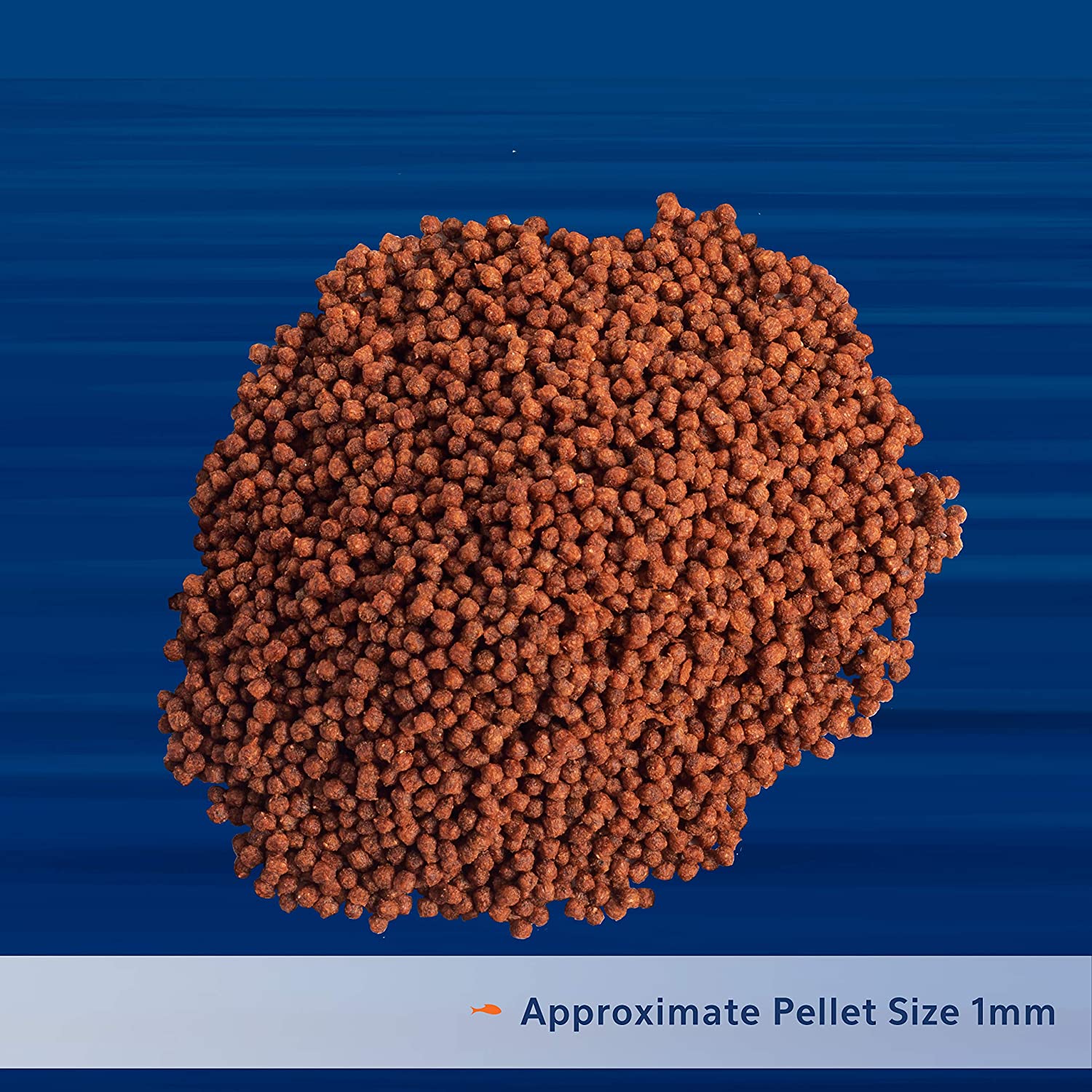 Aqueon betta pellets contain various ingredients to ensure that your betta fish gets the right quantity of nutrients and proteins necessary. Let us list down some of the most vital ingredients present in the aqueon betta pellets:
Whole wheat flour
Shrimp meal
Whole salmon and herring
Wheat germ
Whole dried krill
Squid meal
Fish oil
Dicalcium phosphate
Calcium
Choline
Chloride
L-Ascorbyl-2-Polyphosphate (Vitamin C)
Cholecalciferol (Vitamin D3)
Riboflavin
Thiamine
Biotine
Pyridoxine Hydrochloride (Vitamin B6)
Manganese sulphate
Folic acid
Thus, these are the main ingredients that constitute the aqueon betta food. The above ingredients are distributed so that the pellets contain a minimum crude protein of 38%, crude fat of 7% and a maximum crude fiber of 7%, and moisture of 8%.
Side Effects Of Aqueon Betta Food
There are as such no side effects of aqueon betta pellets. This stems from the fact that the aqueon betta pellets are made wholly of natural ingredients. It provides your betta fish with all the necessary nutrients and proteins. However, bad-quality betta pellets can harm your betta fish. Therefore, aqueon assures that your betta fish gets only high-quality pellets.
Aqueon Betta Food – How To Feed?
Having discussed the various attributes and details of the aqueon betta pellets, we will now tell you exactly how to feed your betta fish. If we talk about quantity, it is advised that you feed only two to four pellets at a time. In other words, you must feed your betta fish only a small amount of betta pellets such that they eat it in two minutes.
If we talk about the number of times to feed them during the day, it is advisable to feed them only once or twice during the whole day. Betta food pellets expand as they come in contact with water. Thus, these betta pellets will prove to be enough for your betta fish.
It should be kept in mind that you must not overdo these pellets. It would help if you did not overfeed your betta fishes as they may not eat the leftovers, leading these betta pellets to sit at the bottom of the tank.
Although it may seem harmless, such leftovers of betta food can cause the ammonia level in the tank water to rise. This sudden rise in the ammonia levels may cause ammonia poisoning and breathing difficulties in your betta fish.
Aqueon Betta Food – Pricing and Policy
Aqueon offers its product with competitive and fair pricing. A 0.95 ounces container of the aqueon betta pellets costs about $1.99. The product also comes with a satisfaction guarantee. This means the company may refund you if you are not satisfied with the product results.
Aqueon Betta Food – Where To Buy?
Now you may wonder where to buy the aqueon betta food. You can buy the aqueon betta pellets for your betta fish from the nearest retail store that offers aqueon made products. If you want to look for stores that supply aqueon products, you can go to Aqueon's official site or Amazon and drop in your zip code. The site will show you the Aqueon stores nearest to your location.
FAQs Related to Aqueon Betta Food
How much aqueon betta food should I feed my betta?
Determining the right quantity of betta food fed to your betta fish might be confusing for some betta owners. You should feed 2 to 4 pellets once or twice a day to your betta fish. Ensure that you feed only that much amount of pellets to your betta fish such that it completes it in under two minutes.
How long can a betta fish live without food?
A betta fish can survive up to 14 days without any food. Although, it is advised not to delay more than 5 days to feed your betta fish. You should delegate someone to feed your fish if you are out for a couple of days or more.
Is Aqueon fish food good?
Aqueon is a renowned company that provides a wide range of aquarium products for the safety and health of your fish. They have a lot of experience in the market, and the aqueon betta food is a high-quality product for your betta fish. It contains all the necessary proteins and nutrients for your betta fish to stay healthy.
Final Thoughts
The Aqueon Betta Food is a top-notch product that would prove to be a perfect fit for your aquarium setup. It contains all the potent nutrients, minerals, and proteins needed for the healthy immune system of your betta fish. It also brings out natural colors in your betta fish and is wholly made up of natural ingredients.