Monitoring the safety of the horses is crucial when traveling with them. Supplying them with sufficient drinking water for the duration of the trip is a critical component. Horse trailer water tanks provide practical water storage solutions for horse trailers that enables you to transport water securely.
Types Of Horse Trailer Water Tanks
Horse trailer water tanks are necessary for moving horses securely and giving them access to enough water. Water tanks come in an array of varieties, each with unique characteristics and advantages. Here are some of the most common types of horse trailer water tanks you can get for your horse.
Built-In Horse Trailer Water Tanks
Built-in water tanks are built inside the horse trailer's framework during construction. These tanks provide a better long-term alternative for water supply. Built-in tanks are made expressly to meet the trailer's architecture and specifications. If you want built-in gravity-fed horse trailer water tanks, then the High Country Plastics Water Caddy is the product for you.
These can be made specifically to the requirements of the caravan. Built-in tanks, as opposed to removable tanks, might have bigger capacity because they are built into the trailer. They have a capacity of at least 100 gallons. Usually, strong materials like aluminum or stainless steel are used to build these tanks, which offer sturdiness and anti-corrosion properties.
Portable Horse Trailer Water Tanks
Portable water tanks are made to be readily removed and replenished. They provide flexibility and adaptability in terms of application and positioning. To match different trailer types, portable tanks are available in a variety of dimensions and designs. They can be anything from little receptacles to bigger tanks with a capacity of at least 25 gallons.
Polyethylene or strong, food-grade plastic is used for its construction. These components are impact-resistant, compact, and water-safe. Portable tanks may be topped off at home or at watering holes, then stowed within the caravan after being filled. To make them simpler to move, they frequently have handles or wheels. Portable horse water tanks are one of the most budget-friendly horse trailer water tank options out there.
Auxillary Horse Trailer Water Tanks
In order to augment the main water supply, extra tanks can be put in the horse trailer. For longer trips or circumstances when a bigger water supply is necessary, these tanks offer additional capacity. They may be installed everywhere around the trailer, including within the storage spaces or beneath the chassis.
Both portable and built-in systems can have additional tanks integrated into them to enhance the overall amount of water storage. Auxiliary tanks can be made to match the required capacity and space constraints during your journey.
Hybrid/Combination Horse Trailer Water Tanks
By blending the benefits of portable and built-in tanks, combination tanks provide users with the best of both worlds. They are made to be adaptive and flexible. Combination tanks can be installed on the trailer or linked to it, making it simple to remove and replenish them.
Combination tanks can give a variety of volume options, from lower sizes to greater capacities, contingent upon the overall layout of the trailer. Combination tanks, like built-in tanks, are frequently constructed of sturdy materials like aluminum or stainless steel to ensure endurance and resistance.
How To Use Horse Trailer Water Tanks?
For your horse traveling companions to have a steady supply of water, it's imperative to install, use, and maintain a horse trailer water tank. Leaks and pollution are all mitigated by using adequate installation and maintenance procedures.
Installation
While installing your horse trailer water tank, the following pointers must be kept in mind.
Measure the amount of room you have in your caravan.
To prevent spilling or moving during travel, place the tank in a safe, stable position.
Portable tanks can be fastened in the chassis of a truck or put in specific locations inside the trailer.
Adhere to the installation guidelines provided by the supplier for built-in tanks.
Make sure that adequate electric pump systems for horse trailer water tanks (ideally, 110V AC 4.0GPM 50PSI) are in place.
To firmly tie the tank to the body or storage area of the trailer, use the proper brackets, ropes, or bolts.
In order to avoid water leakage, make sure the tank is firmly shut.
If your caravan has a built-in water system, follow the directions provided by the manufacturer for linking the tank to the piping system.
To avoid leaks, use high-quality valves, fixtures, and cables.
To preserve the quality of the water, add a pressure sensor and integrated water purification options for horse trailer tanks (RainDance H2O).
Usage
In order to ensure optimum usage of the horse trailer water tank, follow the given instructions carefully.
Before each journey, fill the tank with clean, drinkable water.
In order to prevent water from spilling during travel, do not overfill the tank.
For easy restocking during breaks, install a dependable water supply source on the external side of the caravan.
To avoid leakage, make sure the entry point is well shut.
While traveling, make sure to often check the tank's water level.
To quickly check the water level, use a dipstick or a water level monitor.
Make sure the water you use to fill the tank is pure and contaminant-free.
Check and disinfect the tank at regular intervals to stop harmful algae and bacteria formation.
Maintenance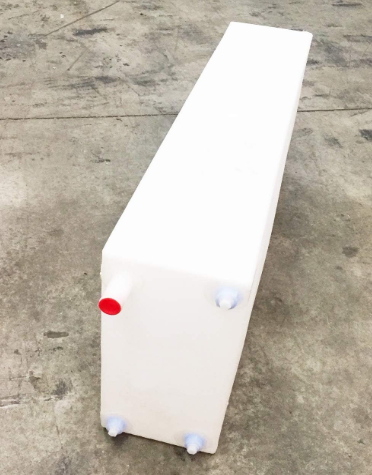 Proper maintenance of the tanks is absolutely necessary for the optimum utilization of such horse trailer water tanks.
After each journey, drain and disinfect the tank.
Use gentle cleansers or cleaning agents specifically made for water tanks.
To get rid of any cleaning debris, give the tank a good rinse.
Check the tank often for fractures, leaks, or other damage.
Examine the hoses, valves, and connectors for wear or degradation.
Replace any broken parts right away.
Sanitize the tank on a regular basis to provide your horses with clean, healthy water.
Use the proper sanitizing chemicals and adhere to the approved sanitization processes.
Take the required measures if you reside in an area with cold weather to stop water from freezing and harming the tank.
Thoroughly drain the tank and put coolant in the pipework to prevent freezing.
Water Tank Accessories For Horse Trailers
Horse trailer water supply systems are made more functional, convenient, and safe with the help of water tank attachments. When horses are transported, these accessories can accommodate a variety of demands and preferences.
Water Level Indicators
Water Tank Vent Caps
Water Tank Fill Hose
Water Tank Drain Plugs
Portable Water Tank Carriers
Water Tank Heaters
Water Tank Cleaning Products
Water Tank Straps and Mounting Brackets
Pressure Regulators
Spare Water Tank Caps and Gaskets
Inline Water Filters
Water Tank Insulation (MicroFeeder Insulated water tanks for all seasons)
FAQs
What is the price of horse trailer water tanks?
Horse trailer water tanks from well-known brands may cost you anywhere between $100 to $500.
What is the best size for horse trailer water tanks?
Depending upon the number of horses and your personal requirements, a water tank with a capacity of 30 to 60 gallons is considered optimum.
Final Thoughts
Horse trailer water tanks are essential for preserving your horses' health while they are being transported. You can guarantee a steady supply of water for the duration of the travel by picking the appropriate tank type, accounting for capacity and location, and maintaining the tank appropriately.